"If I had no sense of humour, I would long ago have committed suicide".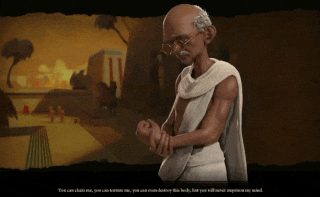 These profound words came straight from the man who needs no introduction, India's beloved icon, Mohandas Karamachand Gandhi a.k.a Bapu. Unanimously known as a disciplinarian with a sombre attitude towards life, very few people know that Bapu was blessed with an infectious sense of humour. In fact, it was only the magic of his wit that helped him sail through the tough times during India's journey to freedom.
While the archives of history contain every minute detail about this legendary personality, we are sharing some lighter moments/situations from his influential life to tickle your funny bone. Read on:-
#1 As per Claire Sheridan's article, an American lady once asked Gandhi ji, "When you will be visiting America?, people are eager to see you". He replied "Ya I have heard about that, they have kept the zoo and cage ready so that everyone can see this strange creature".  😉
#2 A reporter once asked Gandhi Ji, "Why do you always choose to travel by third class in a train"? He replied, "Simply because there is no fourth class yet."
#3 In 1910, when the Non-Christian marriages were considered invalid in South Africa (the time when he was working as a barrister over there), he told his wife Kasturba, "This means you are my mistress", leaving her totally amused.
#4 Just before attending a round table conference in England, a reporter asked him, "Do you think you are properly dressed to meet the King"? He replied, "Don't worry about my clothes, the King has enough clothes on both of us".
#5 Most of the people know for a fact that Gandhi Ji only liked drinking Goat's milk. Mrs. Sarojini Naidu once commented on his Goat milk drinking habit "It is becoming a costly affair to keep Gandhiji in poor conditions". Later, they shared a hearty laugh on her remark.
Other than this, it is said that he use to give funny nicknames to his disciples, friends and relatives. "My dear peacemaker, dear bulbul, guardian of my soul, my dear fly, dear ammajaan are amongst the few nicknames he used for his closed ones.
Well, his witty side truly added more charm to his captivating personality. With tons of love, Happy Birthday Bapu!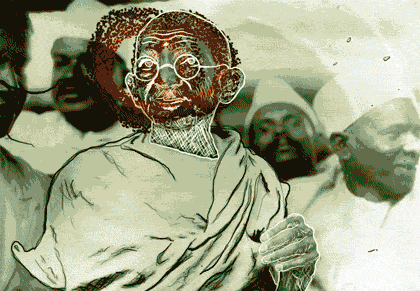 GIF Source- Giphy.com